Helsing's Fire is a fun, brilliantly presented, innovative puzzle / arcade game for iOS.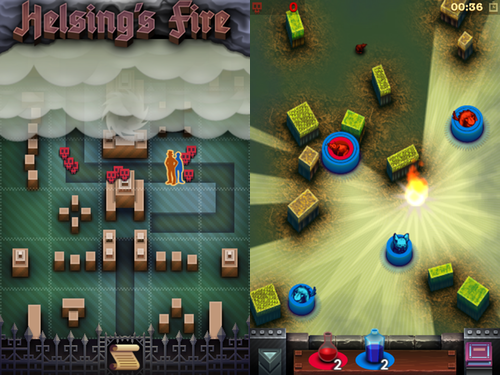 You play as Van Helsing, on a mission to destroy the foul Count Dracula. To do this, you progress through 90 levels across 3 worlds, all filled with a hordes of monsters. The monsters in each level stand stationary, and are coloured red, blue, or green. To defeat them, you must move your flaming torch, casting rays of light around and between objects scattered across the level. Once your light falls upon the monsters you want to vanquish, you tap one of a selection of coloured potions to match the colour of the monster. This gets tricker as you progress through the game, as you must avoid monsters of a different colour to the potion you're using. Different types of monster also present other challenges: bats fly around the level once you've attacked them, werewolves turn into innocent maidens who you must avoid with your potions, and ghosts turn invisible in your torch's glare, so you have to remember their locations. The mechanic of casting light and shadows works really well and looks great.
The game is nicely presented, with a good little story, fun characters with humorous dialogue, and catchy gothic tunes to accompany your adventure (I really recommend you play this one with the sound on – or at least the introduction). I especially like the little touches such as the way Van Helsing and his assistant bump fists or high five one another when you finish a level.
The game starts off pretty easy, but there's a Mario-style difficulty curve where new gameplay elements are regularly introduced, spicing things up a bit.
There are 90 levels in the main campaign mode, including some more arcade-style bosses that fly around the screen and require you to keep your torch on the move to avoid their attacks. Each 'world' also has an unlimited, randomly generated survival mode. A recent updated added a new campaign with 30 more levels, some new enemies, and another survival mode arena. I found it to be quite an addictive 'just one more go' pick-up-and-play game.
Very good value for 59p – they really should be charging more for this. Highly recommended.